WHAT IS THE WELLCOMM TOOLKIT?
Wellcomm is a speech and language toolkit that is designed to assess children's speech and language skills. It is used mainly in the Early Years Foundation Stage but can be used in Key Stage 1.  This toolkit assesses the language that the child understands and the vocabulary that the child uses. There is also Wellcomm Primary that is used for Key Stages 1 and 2.  This assesses understanding, grammar, vocabulary, narrative and social skills.
The toolkit consists of a handbook, the Little Book of Scores and Rules, the Big Book of Ideas, a bag of appropriate toys, and a picture book. This is all supported by helpful short videos and an online Wellcomm wizard which helps calculate scores and produce reports.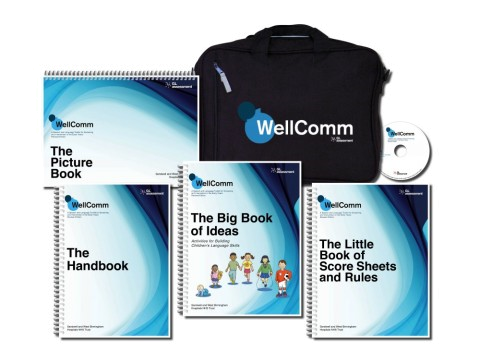 WHAT IS WELLCOMM PRIMARY?
Wellcomm Primary is a primary language toolkit designed to support children with their speech and language.  There are 4 sections in Wellcomm Primary, starting from 6 years of age to 11 years of age. This assesses understanding, grammar, vocabulary, narrative, and social skills.  Within the Wellcomm Primary toolkit, there is the Wellcomm Handbook, The Little Book of Score Sheets and Rules, The Picture Book, and The Big Book of Ideas.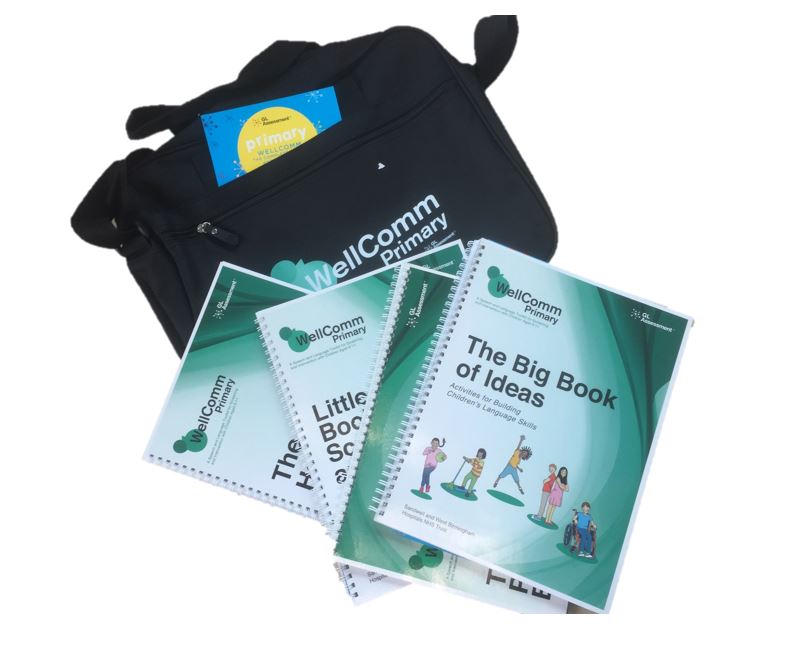 HOW DOES IT WORK?
The toolkit uses a traffic light system that identifies children requiring immediate intervention, as well as those who show potential language difficulties. The system bands children by placing them into one of three categories:
Red: Consider referral to a specialist service for further advice/assessment
Amber: Extra support and intervention required
Green: No intervention currently required
HAVE A QUESTION ABOUT THE TOOLKIT?
We'd love to hear from you. Feel free to contact us here.
THE WELLCOMM HANDBOOK: A GUIDE
The Wellcomm Handbook is a guide to practitioners to support them with Wellcomm. The three-part process of the handbook is depicted below for practitioners to follow and utilise in order to maximise its effectiveness.
1
Part 1
The initial stages of the handbook are designed to help practitioners get started with Wellcomm. It provides practical strategies and guidance and explains how to use Wellcomm in an EYFS setting, with relevant case studies to match.
2
Part 2
The main body of handbook explores how children's language development can be support in the Early Years, and describes the development of crucial language skills such as grammar, memory and inferencing.
3
Part 3
The final area of the handbook outlines the theoretical perspectives that are central to the Wellcomm approach, and describes how the toolkit relates to current policy and ideology within the UK.