LANGUAGE
At Eastwards Consortium, our focus is primarily on educating and developing the next generation of our society. This section showcases off our 'Wellcomm Primary' activity set, and below you will find a set of tabs which depict these tasks further. If you find children are struggling with a task or, on the other hand, passing with flying colours, indications and suggestions are proposed in each section to ensure you keep all children challenged and on-task as much as possible.
To view the various parts of each activity, simply click on the respective tab and watch it magically appear!
TO BE ABLE TO RECALL AND RE-TELL AN EVENT OR STORY
MAIN ACTIVITY
1. Find an appropriate short story or event in a story.
2. Discuss and complete the story grid with the child.
3. Write down any key words and pictures to support with the recall.
4. Support the child to use describing words throughout the recall.
Once completed, ask the child to retell the story in the correct order.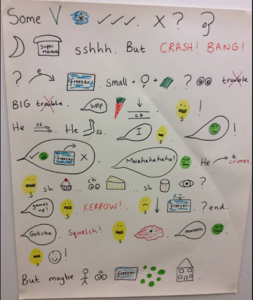 HOW CAN WE MAKE THIS ACTIVITY MORE CHALLENGING?
– Ask the child to use the story grid to create their own story.
– Ask the child to think of different endings to the story.
HOW CAN WE MAKE THIS ACTIVITY EASIER?
– Use pictures in the book to support with the completion of the story grid.